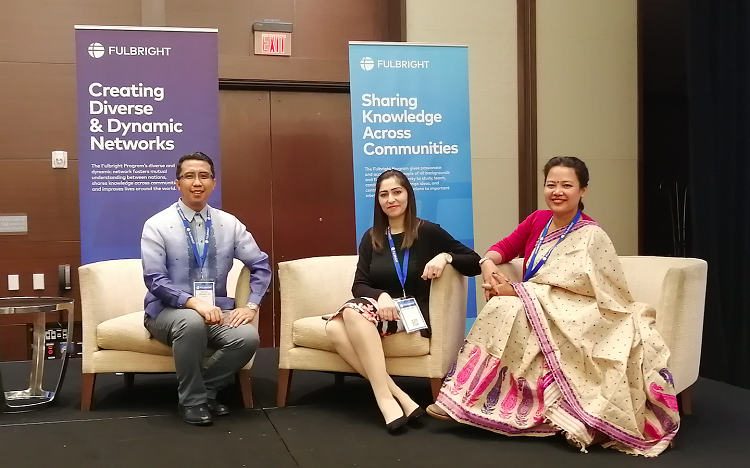 SUCCESSFUL DISCUSSION. Librando (left) joins fellow Fulbright FLTA alumni Dr Hiba Amro from Jordan (center) and Dr Madri Kakoti (right) from India during the panel discussion facilitated by Dr George Marquis of American University
WASHINGTON DC, USA — Xavier University – Ateneo de Cagayan Junior High School registrar and Fulbright Foreign Language Teachers Assistant Program (FLTA) alumnus Anito Librando Jr was one of the three international alumni representatives at the Fulbright FLTA Midyear Conference from December 11 to 15, 2019, at the Marriott Marquis in Washington DC.
The conference was sponsored by the US Department of State's Bureau of Educational and Cultural Affairs (BECA) and administered by the Institution of International Education (IIE).
As alumni representative, Librando participated in the panel discussion together with Dr Hiba Salim Amro from Jordan and Dr Madri Kakoti from India and moderated by Dr George Marquis from American University in Cairo.
Librando also served as a guest in a live podcast interview for 22.33 Live! with Ana-Maria Sinitean, strategic program designer, and Christopher Wurst, director of the US Department of State's BECA Collaboratory.
The podcast may be accessed through the US Department of State's BECA website and Fulbright FLTA Program.
In 2009, Librando was awarded the Fulbright FLTA Program and taught at Northern Illinois University in DeKalb, Illinois.
This year, there are 391 Fulbright FLTAs from 54 countries in Europe, the Middle East, Latin America, Africa, and Asia, teaching 35 different languages in 178 colleges and universities in the US.∎
More photos
SHARING EXPERIENCES. Librando (right) shares his experience as a Fulbright FLTA in 2009 with Director of the Collaboratory of U.S. Department of State's BECA Christopher Wurst (left) during the podcast of 22.33!
NEW MEMBERS. Librando (right) joins this year's Fulbright FLTAs from the Philippines John Paul dela Rosa (NIU), Joedel Peñaranda (Skyline College) and Sunshine Blanco (Cornell University) in the midyear conference.
BROAD SMILES. Librando (lower left) poses together with fellow Fulbright ETA & FLTA alumni volunteers and IIE Midyear Conference Staff
COURTESY VISIT. Librando (right) with PAEF Executive Director Mr. Julio S. Amador, III (left) as he pays a courtesy visit to the Philippine-American Educational Foundation office in Makati before the conference.